Where is the capital city?
Ankara
What is its political system?
Established in 1923, the Republic of Turkey is a democratic, secular, social state of law
What is the official language?
Turkish
What is its population?
82 million
How are international relations?
It is a member of the Council of Europe, NATO, OECD, OSCE and G-20. It has been in the Customs Union with the EU since 1995, and full membership negotiations with the EU have been continuing since 2005.
What is the currency?
Turkish Lira
What is the time zone used?
GMT +3
What is the climate like?
It is in the temperate climate zone. While the summers are hot and dry in the coastal regions, the winters are warm and rainy, the winters in the inner and eastern regions are cold and rainy.
What is the phone code?
+90
What is internet country area code?
.tr
What is the GSM band in operation?
GSM 900 and GSM 1800 for 2G; UMTS 2100 for 3G; For 4G, LTE 800, LTE 900, LTE 1800, LTE 2100, LTE 2600. (Check if your mobile phones support these bands.)
What is the traffic flow like?
Right
How many volts do electrical tools work with?
It is 220 V, 50 Hz. 220 volt electricity is supplied to the residences in Turkey and binary sockets are used in European standards.
Holidays and Public Holidays
New Year: January 1
National Sovereignty and Children's Day: April 23
Labor and Solidarity Day: May 1
Commemoration of Ataturk, Youth and Sports Day: 19 May
Democracy and National Unity Day: July 15
Victory Day: August 30
Republic Day: October 29
Eid al-Fitr: variable by year
Eid al-Adha: variable by year
Daily Life
Turkey, is the role of a bridge between Asia and Europe in terms of social, cultural and political approaches not only in terms of geographical location. Due to this unique location in the lands of the country spread over Anadolu (Asia) and Thrace (Europe), many great civilizations have risen throughout history and these civilizations have been the home of cultural and ethnic richness and differences. Many things in Turkey contain a mix of old and new, East West and the modern with the traditional. When you visit even the smallest village of Turkey however the population is little, you will see that cultural items, traditions, beliefs different languages or dialects live and reflect this.
Today people of many religious, ethnic and cultural backgrounds live in Turkey lands which locate on the trade and migration routes and host many communities and empires that traced in History. Perhaps as a result of this diversity in Turkey people are harmonious, friendly, hospitable and helpful.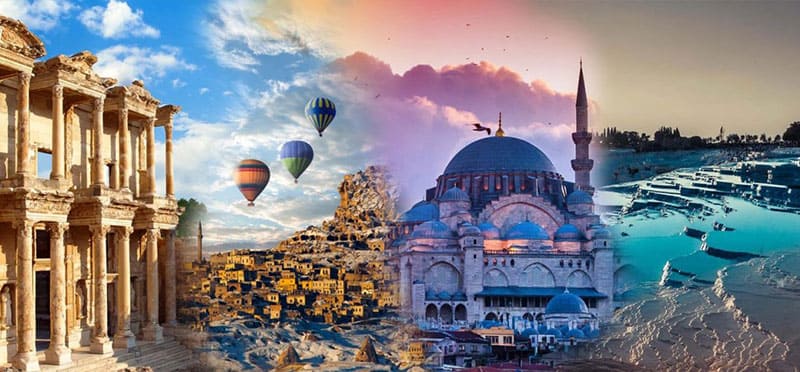 Sincere Human Relations
There is widespread interest and curiosity towards foreigners in Turkey. Do not hesitate to communicate with new people, and even sincerity can be developed in a short time. As the new resident of your city, university or dormitory, there will be people who want to meet and talk with you.
In comparison with many other communities, you will notice that the verbal communication in Turkey is so "noisy". Don't be odd when you see someone suddenly start commenting or laughing out loud. This is not an indication of debate or conflict, but a side of the dialogue that gets excited quickly. Also, don't be odd when you see those chatting or joking with each other physically touching - physical contact is often part of the interaction.
Strong Family and Friendship Relations
Sharing food, clothes, emotions, and secrets is common in Turkish society, whether for solidarity or courtesy. People do not prefer to be alone in many ways, and in this sense, family and friendship relationships are vital. No matter what is the age, gender, social position, whatever you ask any one in Turkey, you will get the answer that she\he has a close friend from the school or district, especially from college.
Friends sometimes even get ahead family members in terms of relationship and depth of sharing. Unlike "friend", the concept of "familiar" in Turkish indicates this. If you decide to study in Turkey,you can not only obtain a good diploma, you can also make lifelong friends gives confidence and peace of mind.
Helpfulness
Among the first impression of many international students about Turkey is that the people are helpful and friendly here. In Turkey, particularly in a situation where you need help of people, even to communicate with a person who does not speak a foreign language is not difficult at all. In a difficult situation you encounter, you can ask for help from those around you. Even before you ask for it, a helping hand can reach you in the street.
For supporting the adaptation period of international students came to Turkey, many universities in Turkey have created a team of local students worked as volunteers. Be sure, these volunteers, who will be your friends throughout the semester, will give you invaluable tips about your new university and life in your city.
Hospitality
Visits to family, friends and neighbors are common in Turkish society. You can go to a close friend or relative as a boarding guest. The guest is almost sacred for the Turkish people, and people do their best to host and comfort the guest. When you are a guest of a traditional Turkish family, they will first fill your stomach with a continuous meal or snack, insist on staying longer, and even if you are going to stay, they will want to give you their own room / bed to be sure you are comfortable.
There is also widespread sympathy for students in Turkish society. If you live away from your family as a young student or employee, one evening your neighbor may knock at your door and want to offer you food. When you run out of salt in the kitchen, don't be afraid to ask your roommate or next-door neighbor.
For millions of refugees forced to leave their country because of the war Turkey that opened its doors, shows Turkish hospitality in the best way.
Presenting a Gift
Turks love to share and present gifts. Innovations are often celebrated by giving gifts. For example, a gift is given when your friend moves into a new home or when you are a guest for the first time, or when a new baby is born. As a student from a different country, you will have acquaintances who want to present you gifts. Failing to accept a gift offered or the treat offered to you at home where you are hosted can hurt people.
Treat Tradition
Treat is a difficult concept to translate into other languages. Treat is a way to welcome the guest and is a service in short-term encounters or meeting places. Like a gift, it is offered free of charge, but does not require closeness in the relationship established and is smaller in scale. For example, treat is offered in restaurants or an institution you visit as a guest. You will soon notice that one of the most common treats is tea. Turks love to drink and serve tea.
Daily life in Turkish society is shaped around meals and long meals. The center of house life is the kitchen. Even in big cities, families often prefer to have their dinner together and at home. Especially after the meals where the guests are hosted, the table is not gathered immediately, they have a long conversation, listen to music and have fun.
Turkish cuisine is world famous with its rich ingredients and dishes made with intense labor. You can taste these unique flavors in restaurants or a house where you are a guest. It is very common to cook at home. You can buy fresh food from grocery stores, supermarkets or markets that are set up on certain days.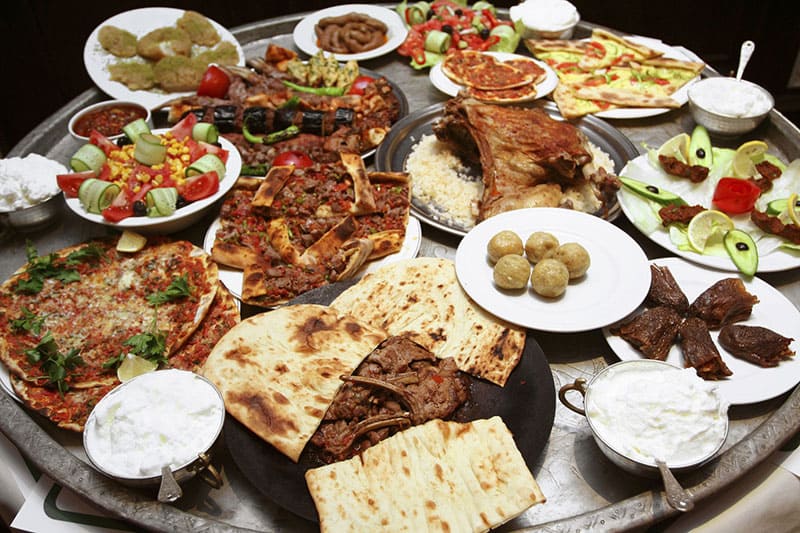 Food Culture
Eating Out
Although it is common to eat at home in Turkey, to eat your fill, you have a satisfying variety of options from traditional meals to simple sandwiches. Restaurants and cafes that offer red / white meat and seafood dishes and vegetarian alternatives are easily found in all major cities.
Before the meal you order at the restaurants is served, a few types of snacks and appetizers are served. Decide on your order, taking into account the treats. Remember: refreshments and water served in a jug are free; bottled water is paid!
Turkish Breakfast
Unlike many cultures, Turkish breakfast is a real meal and should not be skipped as mothers recommend! Pastries such as simit, pancake and bun are indispensable for a quick breakfast. But do not be surprised when you see that the table is equipped with: cheese, olives, eggs, tomatoes, cucumbers, pepperoni, pie, pancake, jam, honey and of course tea during a long and pleasant weekend breakfast.
Student Friendly Meals
Here are some quick and affordable options for dining out:
Döner: You will see that the meat is rotated and cooked on a steep axis in the showcase of many kebab restaurants in the city. This is a döner that is a specialty of Turkey. The beauty of Döner for students is that it can also be eaten as a piece of bread.
Mantı: Mantı, which has similarities in different countries, is a piece of dough prepared with minced meat. It is usually served with yoghurt and tomato paste.
Soup: soup, you will see that soup is done from everything in Turkey. Many vegetables and legumes are used in vegetarian and juicy soups. Soups with meat types are ideal for a light lunch or dinner that a student may want.
Dry Beans & Rice: It is indispensable for the menus of university cafeterias and restaurants that make home cooking. Rice is made from bulgur or rice and is often served with stews. It is said that the nutritional value increases many times when the beans are eaten with rice!
Pastry, Pancake, Pastry: Pastries are essential foods that will save you at breakfast and snacks. You can find many different types in university canteens, patisseries and some restaurants: with vegetables, meat, cheese...
University Cafeterias & Canteens
Many universities have a cafeteria where students can have 2 or 3 meals a day. The price of the meals you can choose from table d'hote or à la carte is very reasonable as it is subsidized by the state. In many universities, it is possible to find canteens, restaurants and cafes outside the central cafeteria.
Geography
One of the largest determinants of social, economic, cultural, political life in Turkey is the location of the country in the world map. The country is located at the point where Asia and mainland Europe meet, and this location is unique. Turkey , is located at the intersection the Balkans, the Caucasus, Middle East and Mediterranean basins. As a result of this location, it is possible, for example, to fly to all of the following countries from Istanbul in less than 4 hours: Finland, Morocco, Spain, United Arab Emirates, Egypt, Russia, Turkmenistan, England. It should not be forgotten that Turkish Airlines is the airline that flies directly to the most destinations in the world!
Meeting Point of Europe and Asia
Turkey is quite large in terms of surface area. Indeed, Turkey is the largest country on the European continent with its entire area. The distance between the eastern and western ends of the country is more than 2000 kilometers. A large part of Turkey's territory is located in Asia and is called Anatolia / Minor Asia. The relatively small part in the European continent is called Thrace. Anadolu and Thrace lands converge at the Dardanelles and Istanbul straits. These two continents are connected to each other by road thanks to 3 bridges in Istanbul. If you think you are a good swimmer, by participating in the swimming race of Turkey Intercontinental organized every year by the National Olympic Committee you can live a unique experience.
In the north of Turkey Black Sea, in northeast Georgia and Armenia, in east Azerbaijan and Iran, Iraq and Syria, in southeast, south and southwest Mediterranean and the Aegean Sea, in northwest Greece and Bulgaria are located. In this respect, as will be seen when looking at the map Turkey, is located on a peninsula rectangular.
Nature
Turkey is a peninsula surrounded by the sea in north, west and the south. However, the geography of Turkey is mostly mountainous and has an average altitude of 1,132 meters. The geography of Turkey is also adorned with numerous rivers and lakes. Van Lake, almost as large as an inland sea, Kızılırmak, the longest river in the country, and the ancient rivers Euphrates and Tigris are the main ones. Every year millions of domestic and foreign tourists are flocking to Turkey to see this natural wonder.
Seasons
Of its geographic location, Turkey is a country with unique geographical features can be seen both as a result of the different climates. The country is surrounded by the sea on three sides and most of its surface area is rugged and mountainous, and there are serious climatic differences between inland and coastal regions. The Mediterranean climate is dominant in the western and southern coastal regions and the amount of rainfall in these regions during the winter months is very low. However, in the inner regions where the altitude is high, quite cold winters are experienced compared to other Mediterranean countries.
You can find the average temperatures of some provinces by months in the table below. Remember, as the temperature measurement unit in Turkey Celsius (° C) is used. In addition, it is important to remember that the academic year at universities in Turkey forms from two periods, mostly the autumn period forms from September to January, while the spring semester is between February and June.
| | | | | |
| --- | --- | --- | --- | --- |
| Average Temperature | Winter | Spring | Summer | Autumn |
| Istanbul | 6,8 | 12,1 | 23 | 15,8 |
| Ankara | 1,4 | 11 | 22,3 | 12,9 |
| Izmir | 9,5 | 16 | 27 | 18,8 |
| Antalya | 10,8 | 16,5 | 27,3 | 20,3 |
| Trabzon | 8 | 12 | 22,3 | 16,6 |
| Erzurum | -7,6 | 4,5 | 17,9 | 7,9 |
| Gaziantep | 4 | 13,3 | 26,4 | 16,1 |
| Bursa | 6,3 | 12,9 | 23,6 | 15,5 |
| Eskisehir | 1 | 10 | 20,6 | 11,8 |
| Konya | 1 | 10,8 | 22,2 | 12,4 |
| Samsun | 7,7 | 11,6 | 22,4 | 16,2 |
So, what should all these temperature values mean to you as an international student? Maybe a huge suitcase filled with clothes and accessories suitable for all climatic conditions. But provided to remember that Turkey, in particular is one of the world's leading countries in the field of textiles and affordable shopping options offered.
All these geographical and climatic diversity provide the existence of numerous alternatives in agricultural production in Turkey, sport activities, and tourism that can not be seen in other countries easily. Within the time you spend in Turkey, next to the high-qualified education to get, you can swim Cleopatra Beach which is famous in the world,you can do rock climbing in Nigde Aladağlar National Park who hosts world's professional climbers from all parts of the world, you can experience the excitement of rafting in Artvin Coruh River!
In addition, Turkey is in the first place for growing nuts, cherries, figs and apricots n the world, and is among the top five countries in the world for growing products such as tea, melons, pistachios, walnuts, olives. Be sure, you will not be the first person to be surprised by the variety of products when you visit the fruit and vegetable section of a large supermarket or go to the market.
From Turkey to Europe and the Middle / Near Asia's many villages you can travel easily through land and air, you can take advantage of transportation options convenient for every budget. Especially the airports in Istanbul, Ankara, Izmir and Antalya are today a base that provides connection flights to many capitals and big cities in the world.
The duration of some direct flights from Istanbul to various cities of the world are as follows:
| | |
| --- | --- |
| USA-New York | 10 hours |
| Germany-Berlin | 2 hours 10 minutes |
| Albania-Tirana | 1 hours |
| Azerbaijan-Baku | 2 hours 15 minutes |
| Bahrain | 3 hours 15 minutes |
| Bulgaria-Sofia | 40 minutes |
| Belgium-Brussels | 2 hours 45 minutes |
| United Arab Emirates-Dubai | 3 hours 45 minutes |
| Bosnia and Herzegovina-Sarajevo | 1 hours |
| Algeria-Algeria | 2 hours 50 minutes |
| China-Beijing | 8 hours 50 minutes |
| Denmark-Copenhagen | 2 hours 30 minutes |
| Ethiopia-Addis Ababa | 4 hours 35 minutes |
| Finland-Helsinki | 2 hours 40 minutes |
| France-Paris | 2 hours 30 minutes |
| South Africa-Johannesburg | 9 hours 15 minutes |
| South Korea-Seoul | 9 hours 55 minutes |
| Georgia-Tbilisi | 1 hours 40 minutes |
| India-Delhi | 5 hours 40 minutes |
| Iraq-Baghdad | 2 hours |
| England-London | 3 hours |
| Iran-Tehran | 2 hours 30 minutes |
| Spain-Madrid | 3 hours 25 minutes |
| Italy-Rome | 1 hours 45 minutes |
| Jordan-Amman | 1 hours 55 minutes |
| Ukraine-Kiev | 1 hours 20 minutes |
| Turkmenistan-Ashgabat | 3 hours 10 minutes |
| Saudi Arabia-Riyadh | 3 hours 20 minutes |
| Serbia - Belgrade | 1 hours |
| Russia-Moscow | 2 hours 10 minutes |
| Romania-Bucharest | 35 minutes |
| Portugal-Lisbon | 4 hours |
| Poland-Warsaw | 1 hours 45 minutes |
| Pakistan-Karachi | 4 hours 55 minutes |
| Uzbekistan-Tashkent | 4 hours 10 minutes |
| Egypt-Cairo | 1 hours 30 minutes |
| Malaysia-Kuala Lumpur | 10 hours 20 minutes |
| Lebanon-Beirut | 1 hours 15 minutes |
| Macedonia-Skopje | 50 minutes |
| Libya-Tripoli | 2 hours |
| Hungary-Budapest | 7 hours 35 minutes |
| Latvia-Riga | 2 hours 15 minutes |
| Kuwait | 2 hours 40 minutes |
| Kyrgyzstan-Bishkek | 4 hours 50 minutes |
| Kirbis-Nicosia | 1 hours |
| Kenya-Nairobi | 5 hours 55 minutes |
| Kazakhstan-Astana | 4 hours 15 minutes |
| Japan-Tokyo | 11 hours |
Passenger connections are provided to Turkey's land borders as Greece, Bulgaria, Georgia, Iran, Iraq and Syria with increasing bus trips each passing day are provided.
Domestic transportation is also provided comfortably and safely with developed land and airline networks. Discount tariffs are offered to students on public transportation routes and sometimes also by private transportation companies.
The most common means of intercity transportation are luxury / comfortable buses that provide services such as food and beverage, internet and TV. Bus services are usually offered by dozens of private companies working within certain regions.
State-sponsored rail transport is also common, comfortable and affordable. High-speed trains serve on Ankara-Konya-Ankara, Konya-Eskişehir-Istanbul (Pendik) -Konya and Ankara-Eskişehir-Istanbul (Pendik) -Ankara lines and conventional trains on other lines. Measures are taken for new high-speed train lines.
There are many national airline companies that provide domestic transportation. Most domestic flights take place via Istanbul and Ankara airports. In more than 40 cities in Turkey, there are airports that domestic flights are carried in. Below are examples of journey times:
| | |
| --- | --- |
| Istanbul – Adana | 1 hours 30 minutes |
| Istanbul – Ankara | 1 hours 5 minutes |
| Istanbul – Antalya | 1 hours 15 minutes |
| Istanbul – Gaziantep | 1 hours 40 minutes |
| Istanbul – Izmir | 1 hours 5 minutes |
| Ankara – Izmir | 1 hours 20 minutes |
| Ankara – Van | 1 hours 35 minutes |
| Ankara – Antalya | 1 hours 05 minutes |
Urban transportation possibilities vary from city to city. In metropolitan cities, traffic congestion can be seen at peak hours, as in all metropolitan areas of the world. However, thanks to the day-to-day public transportation systems, the possibilities in urban transportation are diversified and the comfort increases. For example, in Istanbul, it is possible to cross the Asian and European sides by highway, Railway, Seaway. With the rail system network in big cities, it is possible to easily reach different parts of the city.
In some cities, in addition to the public transport facilities operated by local municipalities, urban transportation is also provided by alternative vehicles such as minibuses and buses operated by individuals.
Thanks to the discounted transportation tariffs offered in all cities, students can reach their schools and other activities they want to attend at very affordable prices. In addition, some universities offer paid / free shuttle services for campus transportation or intra-campus transportation.
Depending on the area and distance of your school and home / dormitory, walking or cycling are among alternative transportation routes.
Although student life varies according to your lifestyle and preferences, it is quite affordable for students in Turkey. On this page, you can find answers to possible questions that may arise in your mind about the main expenditure items of an international student.
Accommodation
The monthly budget you need to allocate for accommodation will vary between 215 TL and 2500 TL. State dormitories, university dormitories, private dormitories, and rental flats each have varying costs. Dormitories are paid monthly, so you do not have to pay during the summer months when you are not staying. However, you have to pay the house rent monthly, 12 months of the year.
For dormitories and rental apartments, a certain amount of deposit must be paid at the first entrance. This amount may vary depending on the monthly payment of the dormitory or the monthly rent of the flat.
You can find detailed information about accommodation on the Accommodation page or from the relevant office of the university you will go to.
Insurance and Health Expenses
Health insurance for international students varies between 300-800 TL per year in private policies. These private insurances allow you to receive free health care within the limits specified in the policy at contracted hospitals. It is important that you also obtain a copy of your policy in English and read the relevant clauses carefully.
General Health Insurance payment is 1059 TL per year as of 2020. With this insurance, you can get free health care in all public hospitals. In private hospitals, you will have to pay varying amounts of contribution.
Daily Expenses
Student discounts are offered at cinema, theater, museum, public transportation, some bookstores and restaurants. Let us remind you that Turkish Airlines also offers attractive discounts and campaigns for students.
It is possible to examine the average prices of some basic needs below.
| | |
| --- | --- |
| Book and stationery fees (yearly) | 700 TL |
| Mobile phone bill (monthly) | 60-120 TL |
|   |   |
| Transportation |   |
| Bus / metro ticket (one way) | 1,75 - 3,50 TL |
| Taxi (5 km) | 20 - 25 TL |
|   |   |
| Entertainment |   |
| Cinema ticket | 15 - 25 TL |
| Theater ticket (State Theaters) | 9 - 15 TL |
| Opera / Ballet ticket (State Opera and Ballet) | 20 - 25 TL |
|   |   |
| Food |   |
| Bread | 1 - 3 TL |
| Water (0.5 lt) | 1 TL |
| Milk (1 lt) | 5 TL |
| Fruit Juice (1 lt) | 5 TL |
| Eggs (10 pieces) | 10 TL |
| White Cheese (1 kg) | 40 TL |
| Pasta (1 package) | 3 - 7 TL |
| Red meat (1 kg) | 45 - 100 TL |
| Chicken (1 kg) | 25 - 50 TL |
| Apple (1 kg) | 10 TL |
|   |   |
| Eating Out and Drinking |   |
| One meal at the cafeteria (State University) | 3-10 TL |
| Breakfast in the university canteen (State University) | 3-8 TL |
| Tea in the university canteen (State University) | 1-3 TL |
| Coffee in the university canteen (State University) | 3-5 TL |
| Toast in the university canteen (State University) | 5 TL |
| Soup | 5 TL |
| Hamburger menu | 20-25 TL |
| Kebab menu | 25-30 TL |